BBC News Online - August, 2003
"You can go in there, take all your clothes off, get fit, flirt with people, snog somebody, restore all your aches and pains, and you can use it on a daily basis."
- Richard E Grant
"The Victoria Baths in Manchester are absolutely worth restoring because they are unique. They're not like any other historical monument in the country. It's not a graveyard, it's not an historical castle, a big country fancy house where there are ropes telling you where you can and can't walk, what you can and can't touch, what you're supposed to admire. This is something you can use on a daily basis. You can go in there, take all your clothes off, get fit, flirt with people, snog somebody, restore all your aches and pains, and you can use it on a daily basis.
It'll make the value of property in the area go up. It'll improve everybody's life, and how can you resist that? And it's historical at the same time and won't look like every other municipal swimming pool up and down the countryside, like a high street supermarket or something.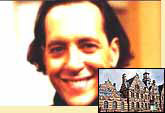 This is unique to Manchester. Get on your phone now and vote for it. Please."
VOTE - 0901 077 5001 Listing: Grade II*
Date of building: 1903-1906
About Richard E. Grant
Richard was born in Mbabane, Swaziland, and showed an interest in drama from a young age, though he claims to have terrible stage fright. He moved to London in 1982 and after being nominated for the most promising newcomer of 1984 by Plays and Players he had his television debut in 1985. He has appeared in a number of films and television series, including Spice World and The Scarlet Pimpernel. His book With Nails, an adapted collection of his diary entries, was published in 1996.
Click here to see a scan of the actual BBC website plea page.