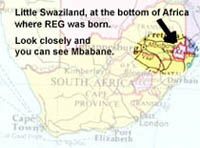 RIGHT: Swaziland, where REG was born. (Click on the image to see a larger map)
Richard E. Grant was born Richard Grant Esterhuysen on the 5th of May, 1957 in Mbabane, Swaziland.
From an early age, Richard knew he wanted to be an actor - a passion fuelled by an instant infatuation with Barbra Streisand that continues to this day.
Richard's parents divorced when he was 11, which caused a great deal of scandal in Swaziland, as his father, Henrik, was the Swazi Minister of Education, and a popular one at that. Unfortunately, Henrik was also a heavy smoker and died 13 years later of lung cancer, aged 51. Richard later lamented that his father wasn't alive to see Withnail and I.
Richard attended Waterford boarding school as a child, and then studied drama at Cape Town University where he co-founded a multi-racial, avant garde ensemble called the Troupe Theatre Company. He acted in many Troupe productions over that two year period, including "Fanshen", "Total Eclipse" and Steven Berkoff's "Agamemnon". He also directed versions of "Metamorphosis" and "The Threepenny Opera".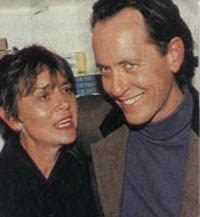 LEFT: Joan and REG
A year after his fathers death, Richard packed up and left for England, arriving in London in 1982. He initially worked as a waiter in Covent Garden until getting work in the theatre, culminating in his 1984 nomination as Most Promising Newcomer for his performance in "Tramway Road" at the Lyric Theatre, Hammersmith.
During 1983 Richard met and worked with Joan Washington on a series of regional British dialects. She later became his wife and is probably responsible for Richard's fabulously well spoken English. Joan is eight years older than Richard, and already had a son Tom from a previous marriage.
Richard follows a strict lifestyle. He doesn't drink alcohol (he's allergic to it), tea or coffee. He also doesn't smoke or eat dairy products, as he thinks it's "cow mucus" and quite disgusting.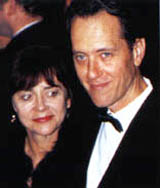 RIGHT: Joan and REG
His first film was an award winning TV production called "Honest, Decent and True", and this lead to his audition for "Withnail and I". The cult and financial success of Withnail meant that Hollywood began to come calling and basically Richard finally had the "big break" that most actors aspire to.
Whilst landing the fantastic part of Withnail was what they had been waiting for, it was also an incredibly unhappy time for Richard and Joan. Their first child together was born prematurely, during the first few days of filming Withnail, and sadly only survived for a few hours. Tiffany is buried not far from the family home. Happily, they now have a daughter, Olivia.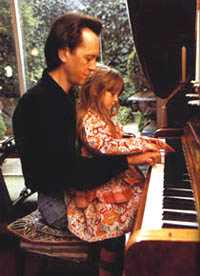 LEFT: REG and daughter Olivia
"Withnail and I" was released in 1988, and since then, Richard has had roles in over 60 films. He's worked with some of America's greatest directors - Robert Altman, Francis Ford Coppola and Martin Scorsese, and has a penchant for playing some of the finest film crazies of the past two decades. The starring role in a big blockbuster has so far eluded Richard, but he has built up legions of dedicated fans as he manages to shine in any movie he appears in.