1999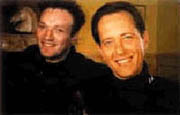 On The Road is a new program on ITV, British Television. Presenters Rosemary Hartill and Andrew Miller take us on a Beginner's Guide to the spiritual galaxy of the Salvation Army, New Age Church, Christian Scientists - and let us in on what people love and hate about their branch of the church.
In Heroes, celebrity guests including Richard E. Grant, Anita Roddick, Marsha Hunt, and Billie, talk about a hero - someone whose life was remarkable for moral courage or insight. There are also profiles of well-known locals, like Lord Bath of Longleat and Michael Eavis of the Glastonbury Festival, who are interviewed about their beliefs and how they make sense of the world.
In The Word on the Street, Rosemary and Andrew investigate what's bothering the West Country mind - hot issues like genetically-modified food; inter-racial adoption, and Jubilee 2000 - the pros and cons of cancelling Third World debts. On the Road is HTV West's 1990s' response to the world-wide growth in holistic awareness and spiritual experiences.
December 6 saw the presenters looking at ways to solve feuds between teenagers when they introduced a new scheme which aims to train school pupils to be their own mediators. Viewers are also offered a guide to the New Age Church, there was an interview with Gloucester poet Jay Ramsey and Richard E. Grant made a guest appearance. The debate of the week tackled the issue of interfaith.