UK Empire Magazine - 1997
By Darren Bignell
The Serpent's Kiss is a costume drama with a difference: Ewan McGregor is a randy gardener and Greta Scacchi the target of his green fingers. Darren Bignell goes behind the potting sheds.
Who knows what Percy Thrower would have made of it, but for those with a penchant for fingers verde the good news is that gardening is coming to the big screen-and it's sexy. Ewan McGregor is the hottest thing in wellies since Kurt Russell and Billy Baldwin played Fireman Sam in Backdraft, and he's shoveling mulch in costume drama The Serpent's Kiss.
But this production, currently filming in County Clare, is not the flouncing posh-frocked bewiggery we've come to expect. For a start, it has a story line so saucy you could bottle it and label it HP: a dashing young craftsman employed by a wealthy landowner to fashion a garden celebrating his wife's beauty, finds the wife more interesting in bedding of a totally different kind, while he enjoys a blossoming passion with her daughter. The line-up includes Pete Postlewaite, Greta Scacchi, and - all snake-like grin and curly black locks - Richard E. Grant as the wife's evil and somewhat manipulative cousin.
"It wasn't written for Richard," laughs producer Robert Jones,"but it could have been-he gets to deliver lines with all the venom that we loved in Withnail and I."
Horticulture didn't exactly feature strongly in Jones' last film, The Usual Suspects, but there are, he says, similarities.
"I look for films which are witty, that stimulate the audience intellectually, visually and emotionally. In essence, this film is a love story, but there's also the themes of what happens when man tries to control human nature."
So expect carnal lust and compost, sex and shrubberies, wanton desire and wheelbarrows. And much sowing of seed.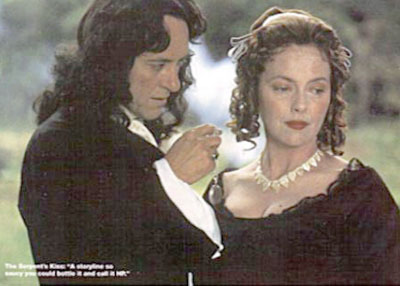 Looks like REG is ready to drop it down her cleavage.